Day 59
This will be short and sweet. I am tired but feeling accomplished and fulfilled. The second day of my weekend workshop was much better than the first. I did not get everything I wanted to do done, but what I did accomplish turned out really nice.
I have not taken pictures yet, so maybe tomorrow.
One of the side effects of a full and tiring day is it is hard for me to find the mental capacity to do much more — this blog is more. It's a shame, too, because today was much better than yesterday but my mind is so full and exhausted I cannot articulate much of anything very well.
It was nice having contact again as our cell service was restored this morning. I was able to talk or text all our children which is always nice and I was able to talk to one of the family members who is not feeling well. We forget how dependent we are on technology until we don't have it. I like to stay in close contact with our family.
So, this is short but it is all I have tonight. Tomorrow I will be in a better state of mind to write. For all my Jewish friends, I'd like to wish you a happy first day of Hanukkah. We can all use a lot more love and light.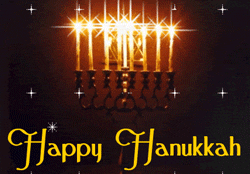 "Like the Maccabees, most people want the right to pray to God in their own way. This right is called freedom of religion. The spirit of Hanukkah, the Festival of Lights, is shared by all people who love freedom." 
Norma Simon