---
Welcome to day five of Just Jot It January for 2023. Today's word is sweet.
Is anything more southern than a iced cold glass of sweet tea? Well, fried chicken, and biscuits and gravy perhaps, but sweet tea is a southern staple.
You cannot be too fancy with sweet tea. My mom made it with Nestea mix from a glass jar (which is now considered vintage by the way). She started that when we moved to Florida back in the 60s and the water smelled of sulfur. Yuck. Her sister made it by the gallons from Luzianne tea bags. Both made their tea with sugar and NEVER lemon!
Now, if you happen to attend a baby shower or a southern brunch, all the tea will most likely be unsweetened, but never fear, I guarantee there will be a dainty glass pitcher of simple sugar nearby. Simple sugar is made by mixing equal parts sugar and water over heat until the sugar is well disolved. (Have you ever tried to dissolve sugar in a cold beverage?) It's stored in the refrigerator and kept on-hand for sweetening any number of things in the kitchen, but especially iced tea. If your occasion is highfalutin, a mint leaf can fancy it up!
Southerners also rate restaurants by how good their sweet tea is. My sister was a big Cracker Barrel fan and in her mind the sweet tea was perfection.
When I made iced tea, it was always made by the half gallon. I used Lipton tea bags and always kept it unsweetened, but we always drank it sweet. I never make it anymore. We generally drink water at all our meals now.
And please, for the love of all things decent, drink your iced tea out of glass and not plastic! A pint sized mason jar is also perfectly fine, too, but not at brunch of course!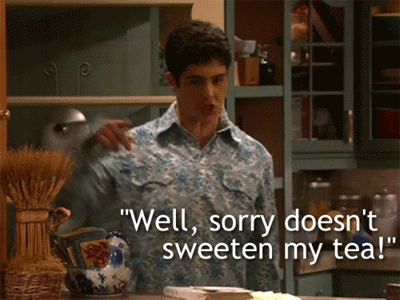 ---
Written as part of Linda Hill's JusJoJan.
Prompt word today (sweet) submitted by Ritu Bhathal from But I Smile Anyway.